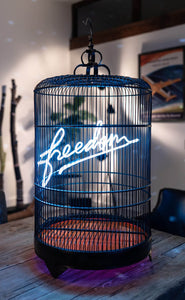 Freedom is the latest in a series of neon artworks by Olivia Steele, this piece in collaboration with The Green Room. 
Set inside a bamboo bird cage, Freedom is a continuation of Olivia's original interventions on found objects like vintage birdcages and gas tanks.
Aside from the immediately iconic and often humorous style of Steele's work, her interventions are pointedly placed in environments that prompt existential musings
About the artist
Contemporary light artist Olivia Steele harnesses the power of neon gas to assert symbolic phrasing that allures and provokes.
Steele has earned an international reputation for her spirited public neon happenings in surreal environments. Pioneering a new breed of conscious art, her expansive career has seen her impart fragments of handwritten wisdom and wit all over the globe.
For more information please contact The Green Room on 02 9699 1206 or info@thegreenroom.com.au